2014 35 PASSENGER COACH BUS – THE OXMOBILE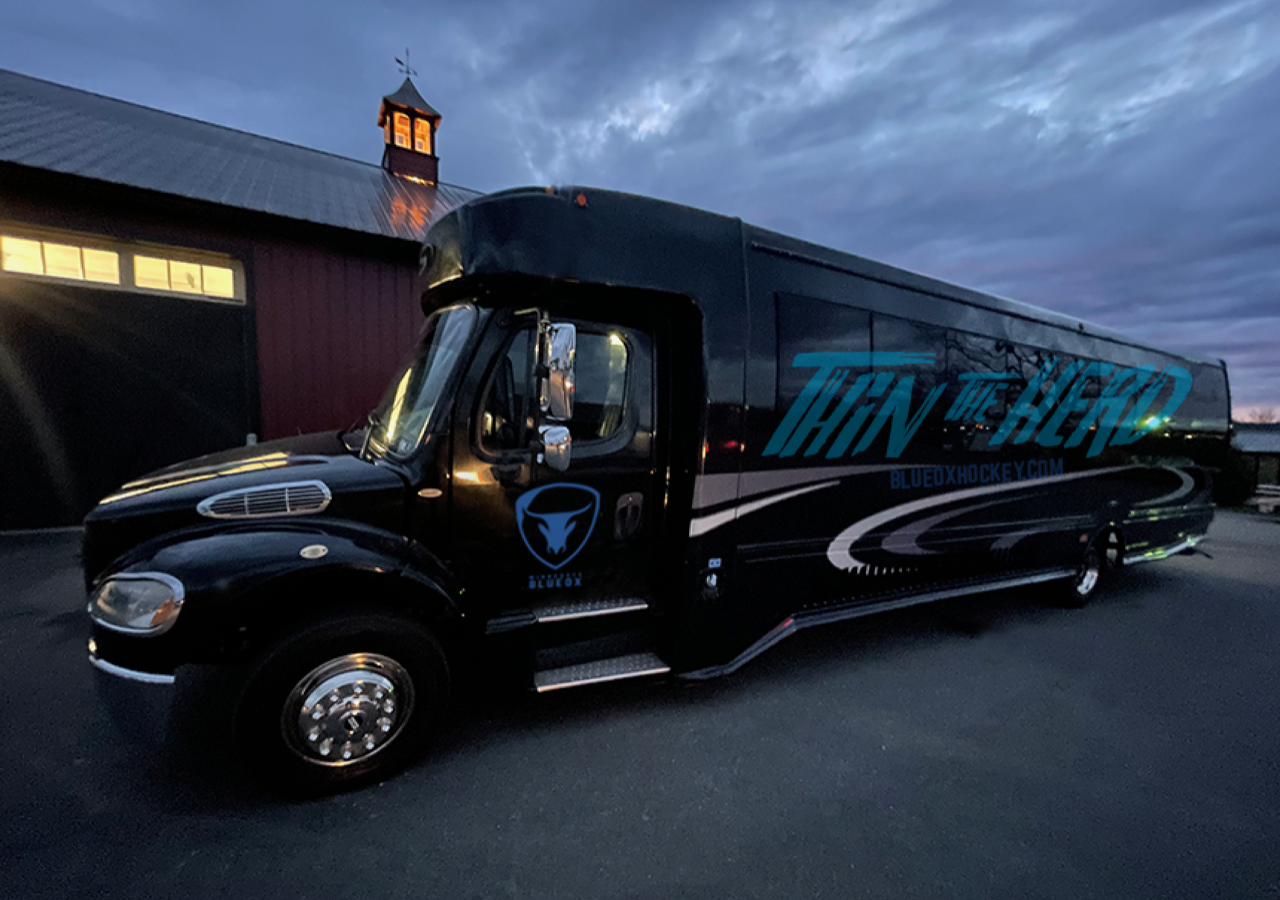 The Minnesota Blue Ox invested in our own Team Transportation in 2022-23. With the purchase of the OxMobile, Black Beauty, Black Beast, etc the Ox secured solid, safe, dependable transportation for our players and team. If a junior team is asking its players to "Carpool" to games, sorry – but that is not Junior A' hockey. That is youth hockey at its best. 
We are proud to offer our own transportation for our players, and believe the boys traveling together as a "Team" is a huge part of the junior hockey experience and team building!   
Our 35 passenger Freightliner, has an add on 4×6 enclosed trailer for the longer trips out of town too. We employee three background checked, CDL drivers that are certified and have their passenger and air brake endorsements – so safety and security for our players is our #1 priority. 
Bathroom. No bathroom. But bus tag at Kwik Trip or Love's gassers is a must every trip! 
Our corporate sponsor, A Class Sounds in Spring Lake Park, (763-272-4125) upgraded all our audio and video systems this past season – by installing 4 Big Screens, 16 Speakers and 2 Subwoofers. They added LED lighting inside, underneath the bus, remote alarm system and reverse mirror technology as well. If you need any AV needs please call Tiffani at A Class Sounds. 
If you see the OxMobile on the road – please be sure to give us a honk and wave! 
#DoGreatThings
#thintheherd
#WEwin
#keepthekidsplaying
#BESTjrhockeyexperience
#4OxenTacticalGroup
#BESTfanExperience