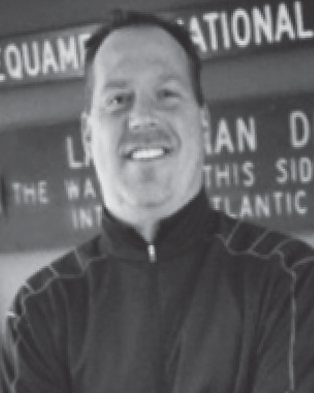 JAY WITTA
HEAD COACH
Jay brings over 20 years sales and marketing experience to the Blue Ox with his Minneapolis based Digital Marketing Agency, Tripine Creative, Inc. For the past two seasons Witta has been the head coach of the NA3HL's Junior A' hockey team – New Ulm Steel. Witta completed a 67-33-10 two year record with a Silver Cup semifinal appearance last season and a Western Division playoff final loss to the eventual National Champion, Granite City this year. The Steel also completed a relocation transition from White Bear Lake to New Ulm this season with the smoothest of ease. Jay worked daily with the Steel ownership in all aspects of the business – budgets, league communications, recruiting, trades, facilities, core value accountability, parent communication, and player advancement.
Witta also facilitated all player development training and implemented all team systems to be executed in game situations. Witta, a Minnetonka, Minnesota native, played three years for the Minnetonka Skippers from 1985-87 where he was named captain his Senior season and helped guide the Skippers to their first ever Lake Conference Championships and was honored with an All-Conference Team selection.
Witta was recruited by Herb Brooks at St. Cloud State University in 1987 to play on the inaugural SCSU Division 1 squad. After entertaining offers from various Division 1 & 3 programs across the country, Witta chose to stay close to home and attend St. Cloud State University as a walk on defenseman.
Witta also played Junior A' hockey in Humboldt, Saask. (SJHL) before an undetected heart issue caused him to retire and return back to Minnesota. Witta has been coaching for the past 15 seasons and in addition worked closely to help create the Breakaway Hockey AAA program – by assembling the first ever Breakaway 1997 AAA training team. Witta resides in Minnetonka with his wife Sara and their four boys.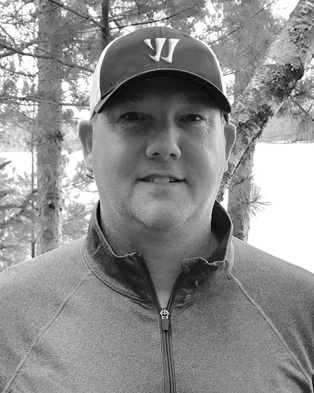 JASON WOOD
ASSISTANT COACH
The Minnesota Blue Ox have announced the hiring of Assistant Coach Jason Wood, of Brooklyn Park, Minnesota. Wood will assist Blue Ox head coach Jay Witta this upcoming 2017-18 season.
Jason comes to the Blue Ox after a very successful high school hockey coaching career spanning the course of sixteen years. Coach Wood has also spent many years coaching with USA hockey at the various HP 16-17 regional levels, and is a USA Hockey Level 4 certified instructor. The ever so humble Wood, is a self proclaimed "hockey junkie" and is proud of the fact that he has helped instruct and develop dozens of local players that have gone on to play collegiately and professionally. Jason can still be found at the rink on any given late night participating with his pond hockey buddies, enjoying the love of the game. Born and raised in Blaine, Minnesota, Jason now resides in Brooklyn Park with his wife Stacey and their two girls.
Blue Ox General Manager/Head Coach Jay Witta had this to say about Wood, "With Jason's love of teaching the game, and his contacts and knowledge of the local/regional scouting markets, he has already become a very important asset to the success of the MN Blue Ox. The fact that we will have the most mature (and tallest) coaching staff in Junior A' hockey, is a testament to our ownership group wanting to give our players the best experience possible. We are father's of hockey players first, hockey coaches second. And that is a great comfort to many parents who trust in us to take care of their players for several months away from home. I really look forward to working with Jason, not only this season, but for many seasons to come."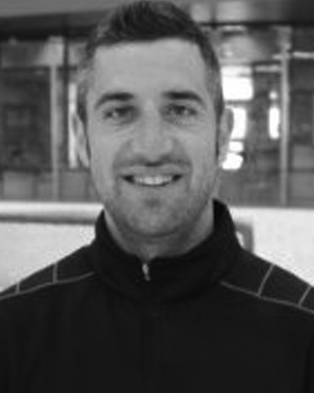 CASEY ROONEY
READ REACT / GOALIE & SKILL DEVELOPMENT
Casey Rooney, of ReadReact Hockey, began his hockey playing career in White Bear Lake, Minnesota and went on to play for Hill-Murray High School as a forward. After graduation, Casey moved on to play Junior Hockey for the Lakers and was fortunate enough to win a National Championship. In 2008, Casey began working with ProHybrid as a goalie instructor and shooter for elite goalie prospects. Studying and teaching the intricacies of the goalie position has given Casey a deeper understanding of the game and helped him become a better overall coach.
Today, Casey possesses a very unique skill set having logged more than 10,000 hours training both skaters and goalies. He is currently the Director of Player Skills Development for the Minnesota Icemen AAA program. He was an assistant coach for the Forest Lake Lakers, a Tier III Jr. A hockey team located in Forest Lake, Minnesota. Additionally, Casey has trained players and goalies of all ages in Alaska, Seattle, Chicago, Notre Dame, Denver, Ontario, and Michigan.
Other unique facts about Casey that are worth mentioning. He was a skating double in the movie Mighty Ducks 3. This movie's commercial success ultimately paved the way for the creation of the Mighty Ducks of Anaheim, (now the Anaheim Ducks) NHL team. In 2012 Casey competed in the Red Bull Crashed Ice, one of the world's most breathtaking winter sports events where riders hurtle down courses up to 600 meters long in groups of four, shoulder to shoulder, as they fight it out for victory. Visit www.ReadReactHockey.com to learn more.